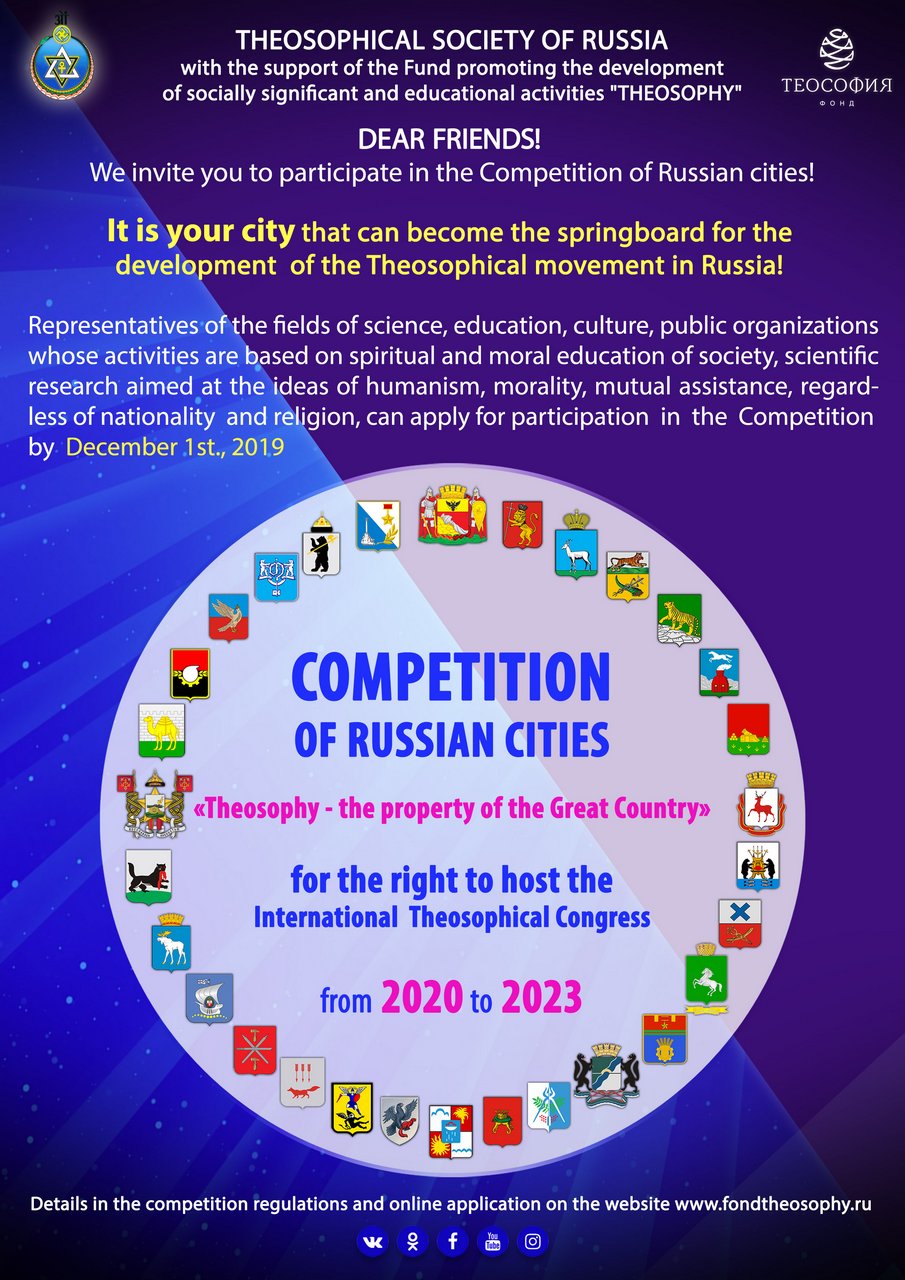 Dear friends!
We invite you to participate in the Competition of Russian cities!
It is your city that can become the springboard for the development of the Theosophical movement in Russia!

Representatives of the fields of science, education, culture, public organizations whose activities are based on spiritual and moral education of society, scientific research aimed at the ideas of humanism, morality, mutual assistance, regardless of nationality and religion, can apply for participation in the Competition by 01.12.2019
Stages and order
Stage 1
Until 01.12.2019, the acceptance of applications and questionnaires for participation in the Competition (Appendix №1, Appendix №2).
2 stage
Until 03.12.2019, the correspondence selection of cities-applicants for the International Theosophical Congress in accordance with the submitted applications and questionnaires.
Applicant cities that scored at least 75 points are in the fourth stage of the competition.
3 stage
Until December 7, 2019, the Decision of the Expert Council (signing of the Protocol) of the selection round according to the evaluation criteria (Appendix №3) of the total number of applications and questionnaires of cities that scored at least 75 points.
4th stage
Until December 20, 2019 - a popular vote is the choice of 3 cities for the Congress. online Voting - posted on the website www.fondtheosophy.ru, and other Internet resources, including the candidate cities of the Contest participants.
5 stage
Until 29.12. 2019 full-time stage. The distribution of the three cities-winners by the years of the Congress, which includes negotiations with the initiator of the Congress in each of the cities-winners.
6 stage
Summing up the results of the Competition from 2020 to 2023.
From 01.01.2020 to 01.15.2020, public notification of the results of the Competition, placement (publication) in the public domain in Internet resources, including on the site www.fondtheosophy.ru and any other public resources. The initiator receives the Winner Certificate for the right to host the International Theosophical Congress.
7 stage
Conducting a Congress in each of the winning cities for three years.
The application and the questionnaire are sent to the contest organizers by e-mail This email address is being protected from spambots. You need JavaScript enabled to view it. marked in the subject line of the letter "CITY COMPETITION" until 12/01/2019
Organizers can write to e-mail: This email address is being protected from spambots. You need JavaScript enabled to view it., This email address is being protected from spambots. You need JavaScript enabled to view it.,
Call +7 (926) 910-92-77 (Megaphone) tel / WhatsApp, +7 (962) 924-907-24-88 (Beeline).
Competition Regulations and Applications: