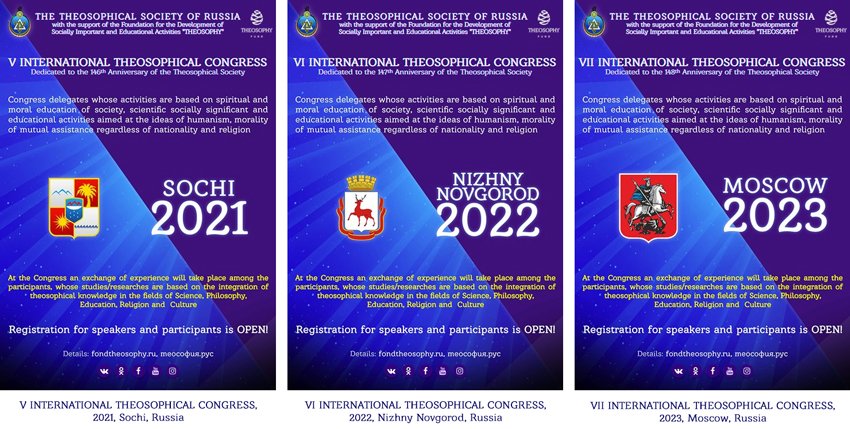 ---
V INTERNATIONAL THEOSOPHICAL CONGRESS
dedicated to the 190th anniversary of the birth of Helena Petrovna Blavatsky
Russia, Sochi 2021

DEAR FRIENDS!
We invite you to take part in the International Scientific Symposium
"Cosmogenesis. Anthropogenesis. Theogenesis"
The Congress will be held in Sochi, Russia, on November 27, 28, 2021
Venue: Russia, Sochi, Conference-hall "Zvezdny", Gagarina str., 5
The main concept of the event: support and development of activities that are based on spiritual and moral education of society, scientific research, socially significant and educational activities aimed at the ideas of humanism, tolerance, morality, mutual assistance, regardless of nationality and religion.
Organizers: Theosophical Society of Russia / Lodge "Adamant" with the support of the Fund Theosophy.
Partners: Association of Small and Medium-sized Cities of Russia, Cultural Center "Peacemaking" Voronezh, Charitable Foundation "Delfis", International Art Foundation, Russian Cosmonautics Federation, Engineering Academy (Peoples' Friendship University of Russia), National Environmental Foundation, International Association of Peace Foundations.
Participants: members of the Theosophical Society, scientists, researchers of theosophical works, representatives of the fields of science, philosophy, education, religion, culture, whose research is based on the integration of theosophical knowledge.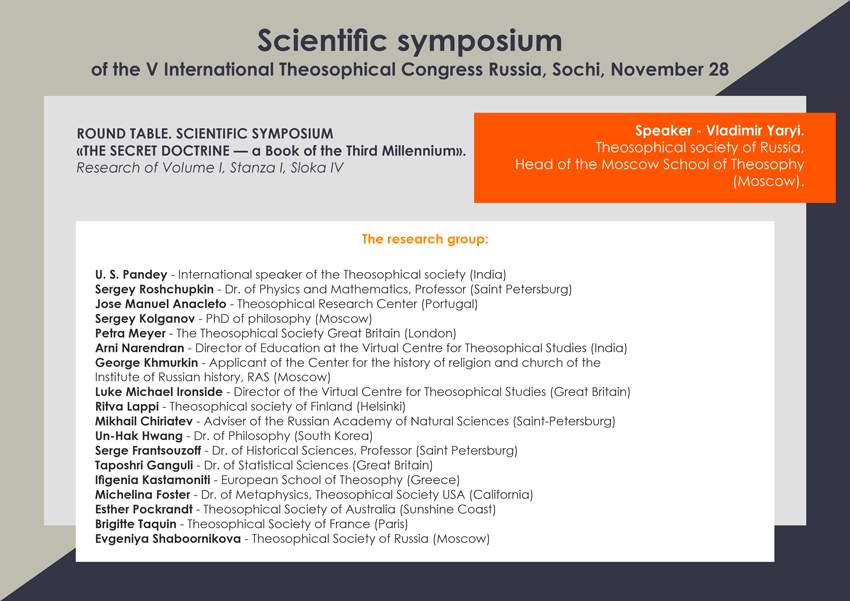 Speaker registration Registration of participants
Discount on room reservations at the hotel complex "Zvezdny" by promo code Теософия - 15%

Promo code Теософия is valid for Wellness & SPA "Zvezdnyi" and "Zvezdnyi City" hotel
Discount period: from November 22 to 29, 2021
Promo code validity period: from August 21 to November 22, 2021
Payment - 100% cancellation fee for the first day.
Participant of the Competition of Russian cities for the right to host the International Theosophical Congress "Theosophy – the heritage of a Great country" in 2021 – the city of SOCHI!
Sochi is a young city on the Black Sea coast with a very beautiful nature. The city is like one big park: South, Sky Park, Olympic, Seaside, Riviera, the famous Park "Arboretum" - a living museum of subtropical vegetation from different continents: North America, Australia, New Zealand, Eurasia. There are White Rocks and Kalinovoe Lake, Bear Corner and the Garden-Museum "Tree of Friendship", Winter Theater and Theater Square, Trinity St. George Convent and Stalin's dacha, Agur waterfalls and Prometheus Rock, Yew-and-boxwood grove, the famous Krasnaya Polyana and Rosa Khutor mountains 2320 m., and much more. Delegates of the V Congress can visit the sights of the city, visit specially organized excursions. Guides who know and love Sochi will tell you a lot of new and interesting things about the history and architecture of the city.
See you at the Congress in Sochi in 2021!
---
Congress achievements for 2017-2020
for the first time, they were held:
Competition of Russian cities "Theosophy - the heritage of the Great Country" for the right to host the "International Theosophical Congress" St. Petersburg 2017-2019, Voronezh 2020, Sochi 2021, Nizhny Novgorod 2022, Moscow 2023;
International Scientific Symposium "Cosmogenesis.Anthropogenesis.Theogenesis - the unified evolution of consciousness";
Round table "The Book of the third millennium". A Study of the Stanzas of Dzyan "Secret Doctrine" by H.P. Blavatsky;
"Book Expedition" exhibition and sale of popular science and esoteric publications;
Children's art exhibition "Children of Blavatsky. I dedicate";
International Art Competition dedicated to H.P. Blavatsky;
International Poetry Competition dedicated to H.P. Blavatsky;
Exhibition of publications of the "Secret Doctrine", rare foreign and domestic publications (letters, autograph by H.P. Blavatsky, etc.);
Exhibition of sculptures "Lights of Humanity" by A. Leonov;
Exhibition "The Philosopher's Stone" by V. Tuzlukov;
Participation of the guest of honor, the famous Tibetologist V.S. Dylykova-Parfionovich;
Presentation of the Book "Kalachakra Tantra", a unique translation and interpretation of Tibetan texts;
Delegates of the Congress are foreign, Russian theosophists and scientists, representatives of the fields of science, education, culture, including candidates and doctors of philosophical, biological, philological, pedagogical, economic sciences, cultural studies, art history, members of the Union of Writers and the Union of Artists of Russia;
Greetings to the Congress delegates from the members of the Theosophical Society (33 countries of the world);
Official greetings from the Committee on Culture of the Government of St. Petersburg, the Administration of the Voronezh Region, members of the Public Chamber of the Russian Federation, the State Duma of the Russian Federation, the Federation Council of the Russian Federation, the Committee on Culture of Sochi, the Committee on Science and Education of Sochi, the Department of Information Policy of the Krasnodar Territory;
publication of an album of paintings by participants of an Art exhibition;
publication of a collection of poems based on the results of a poetry contest;
publication of an Information booklet about the Theosophical Society of Russia;
publication of the Journal (collection of research reports in Russian and English) based on the results of the Congress 2017, 2018, 2019, 2020, 2021;
Opening of the International Theosophical Publishing House "Albatross", publication of the popular scientific journal "Theosophical Vector" (printed and electronic versions in English and Russian)
Details in the Release Program Congress PDF Congress Reviews PDF
---