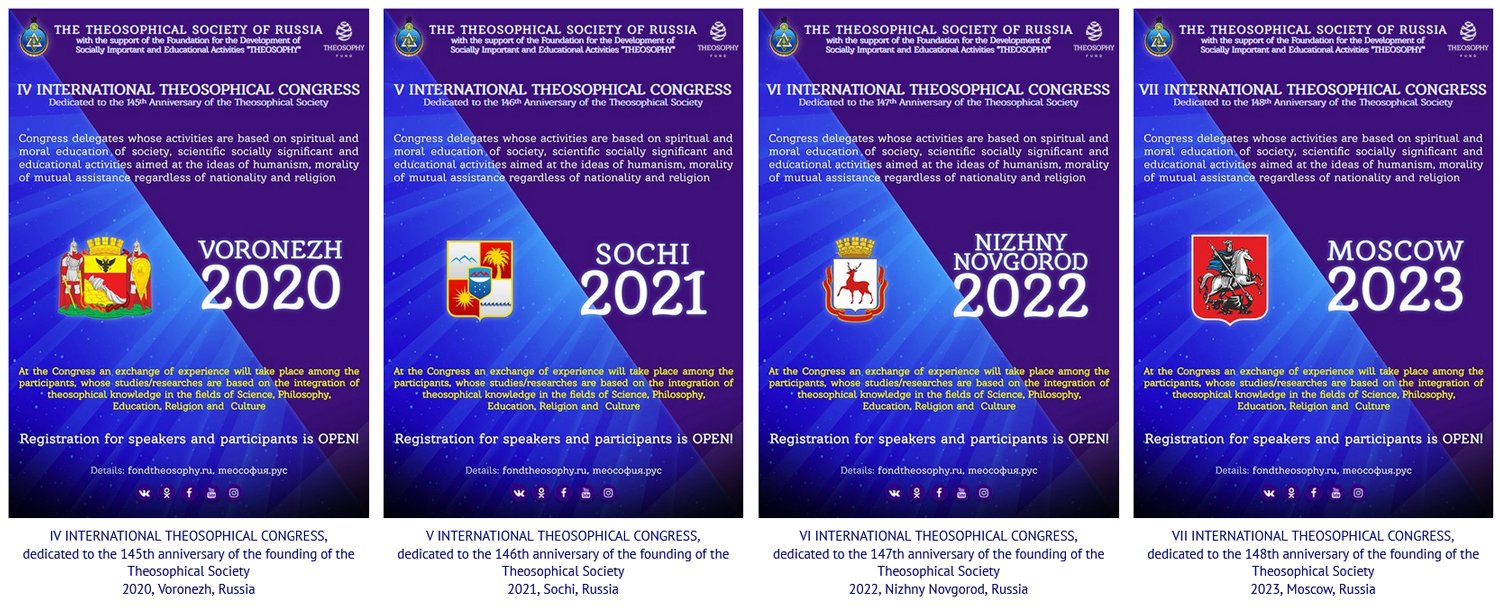 IV INTERNATIONAL THEOSOPHICAL CONGRESS,
dedicated to the 145th anniversary of the founding of the Theosophical Society
2020, Voronezh, Russia
DEAR FRIENDS!
We invite you to take part in the work International Scientific Symposium
"Cosmogenesis. Anthropogenesis. Theogenesis - a single evolution of consciousness"
as speakers, opponents, free listeners
Congress will be held: Russia, Voronezh, 21-22 November 2020
Venue: Ramada Plaza "Voronezh City Centre", Hall "Peter1", Ordzhonikidze str., 36 "A"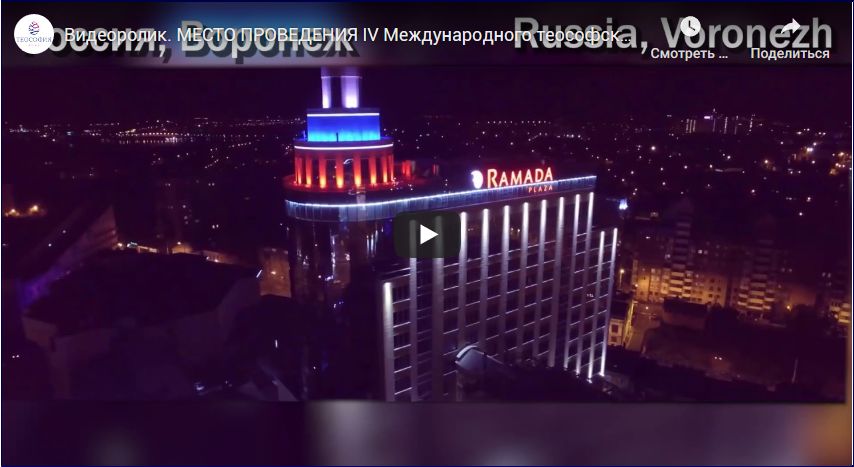 The main concept: support and development of activities, which are based on spiritual and moral education of society, scientific research, socially significant and educational activities aimed at the ideas of humanism, tolerance, morality, mutual assistance, regardless of nationality and religion.
Organizers: Theosophical Society of Russia / Adamant Lodge with the support of Theosophy Foundation
Partners: Association of Small and Medium-sized Cities of Russia, Cultural Center MiroTvorchestvo, Voronezh, Charity Fund Delphis, International Art Fund, Cosmonautics Federation of Russia, RUDN Engineering Academy, National Environmental Fund, International Association of Peace Funds.
Participants: scientists, researchers of theosophical works, representatives of the fields of science, philosophy, education, religion, culture, whose studies are based on the integration of theosophical knowledge.
The winner of the Competition of Russian cities for the right to host the International Theosophical Congress in 2020 is VORONEZH!
Voronezh is a beautiful old Russian city with a rich history. Delegates of the IV Congress can visit the sights of the city, go on specially organized excursions. Guides who know and love Voronezh will tell a lot of new and interesting things about the history and architecture of the city, its poets, writers, scientists and other wonderful people. See you at the Congress in Voronezh in 2020!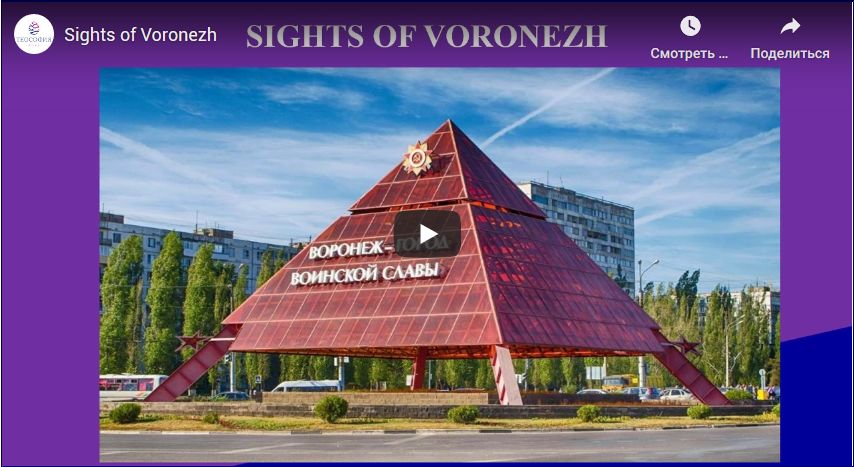 Congress Achievements for 2017-2020
first conducted:
Competition of Russian cities for the right to host the "International Theosophical Congress" St. Petersburg 2017-2019, Voronezh 2020, Sochi 2021, Nizhny Novgorod 2022, Moscow 2023;
Scientific symposium on the problems and development of a comparative analysis of religions, science, philosophy in the fields of education, science, medicine, culture;
ROUND TABLE "Book of the Third Millennium" Discussion 1 Station "Secret Doctrine" HP Blavatsky.
Congress delegates representatives of the fields of science, education, culture, candidates of biological, philological, pedagogical, economic, philosophical sciences, culturology, art history, tibetology, members of the Russian Writers Union, the Union of artists, authors of books, scientific studies and articles. Doctor of Historical Sciences, Professor of St. Petersburg State University, Deputy Head of the MAI Department, Professor of the Institute of Philology and Oriental Studies, Institute of Russian Academy of Natural Sciences.
Art Competition dedicated to H.P. Blavatsky, The Secret Doctrine;
an exhibition of publications of The Secret Doctrine, rare foreign and domestic publications (letters, autograph by HP Blavatsky and others);
exhibition of sculptures by H.P. Blavatsky, including the famous artist A.Leonov, whose sculptures adorn many museums in the world, a bust of H.P. Blavatsky is located at Adyar headquarters;
International poetry contest dedicated to H.P. Blavatsky;
greetings to Congress from Members of the Theosophical Society (19 countries);
Official greetings from the Committee on Culture of the Government of St. Petersburg, members of the Public Chamber of the Russian Federation, the State Duma of the Russian Federation, the Council of the Federation of the Russian Federation;
participation of the guest of honor, the famous Tibetologist V.S. Dylykova-Parfionovich;
participation of foreign Theosophists: Isis Resende - President of the Inter-American Theosophical Federation, Grazo Mello - member of the Brazilian MOT Section, Ritva Lappi - member of the Finland Municipal Section;
Congress delegates from Estonia, Ukraine, Kalmykia, Tatarstan, Bashkortostan, Chuvashia, Belarus, Krasnodar Territory, Karelia, Rostov Region, Moscow, St. Petersburg, Nizhny Novgorod, Pskov, Uzhgorod, Barnaul, Lviv, Penza, Ivanovo, Gorno-Altaysk, Kommunar, Mytishchi, Yekaterinburg, Bryansk, Yalta, Cheboksary, Sergeev Posad, Yeysk, UFA, Nizhnekamensk, Petropalovsk - Kamchatsky, Zelenograd, Tambov;
publication of the Album of paintings by participants in an art exhibition, a collection of poems based on the results of a poetry Competition, an information booklet;
---