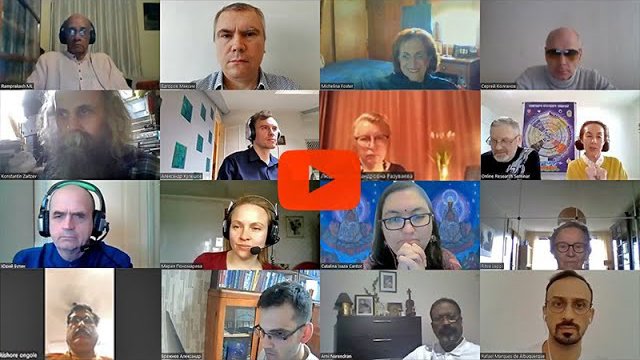 For all those who study and are interested in the Theosophical works of H. P. Blavatsky!
Study of the 2nd Stanza, the 3rd Sloka of the Secret Doctrine by HPB «The Hour had not yet struck; the Ray had not yet flashed into the Germ; the Mâtripadma had not yet swollen», is presented by:
Ramprakash M. L., United Lodge of Theosophists of India (Bangalore, India),
Michelina Foster, Theosophical Society US, PhD in Metaphysics (California, USA),
Catalina Isaza Cantor, Theosophical Society of Colombia, (Adyar Theosophical Academy, in the International HQ of TS),
Rafael Marquez de Albuquerque, Ph. D., Theosophical Society of Brazil (Florianopolis, Brazil),
Final presentation - Evgeniya Shaboornikova, Theosophical Society of Russia, Project Coordinator of the Foundation for the Promotion of Socially Significant and Educational Activities «Theosophy», Moscow.
Comments:
Vladimir Yaryi, Theosophical Society of Russia, «Adamant» Lodge (Moscow),
Arni Narendran, Theosophical Society India, Educational Director of the Virtual Centre for Theosophical Studies Adyar (Mumbai, India),
Sergey Kolganov, Professor at Moscow Aviation Institute, PhD in Philosophy (Moscow, Russia),
Ritva Lappi, Theosophical society of Finland, «H.P. Blavatsky's Lodge» (Helsinki),
Kishore Ongole, Theosophical Society of India (India, Guntur),
Lyudmila Razuvaeva, Vice president of "Blavatsky's Lodge" (Kemerovo, Russia).
The next seminar is devoted to the study and research of the 2nd Stanza, 4th Sloka of the I volume of the "Secret Doctrine" by Helena Petrovna Blavatsky.
We ARE WAITING for you on April 30 at 15:00​ (Moscow time) on zoom platform.
Link to join the seminar: https://www.fondtheosophy.ru/zoom
It's easy to be together!