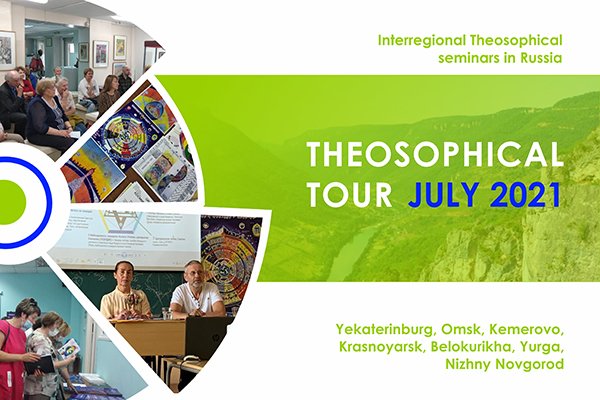 The THEOSOPHICAL TOUR – Seven cities, Seven esoteric meetings and live conversations for everyone who is interested in and studies the works of H.P. Blavatsky and the Roerich family, took place in July 2021. More than 13 thousand people viewed the publications during the Theosophical Tour.
The interregional Theosophical seminar "Unified Evolution of Consciousnesses" from Moscow to Altai opened up new opportunities, attracted the attention of not only members of the Theosophical and Roerich societies, but also representatives of the fields of science, education, culture, medicine, as well as students and young people who were able to touch theosophical knowledge for the first time.
Every seminar held in the cities of Yekaterinburg, Omsk, Kemerovo, Krasnoyarsk, Belokurikha, Yurga, Nizhny Novgorod lasted 4-5 hours, almost without a break, aroused genuine interest in various topics that were presented. All of them allowed not only to share the experience of studying and practical application of knowledge, but also revealed the possibility of new discoveries, expanded and in-depth understanding of complex terms, symbols, concepts, life situations and problems, allowed answering many questions: about the Law of Karma and the Laws of Time, Cycles and races of humanity, the future of a New Era, evolution and involution, Shambhala, Arhats, Spatial Fire, Rays and energies, memory of the Spirit, Heart, psychic energy, esoteric symbolism, Kalachakra, Nidanas, Elements, age psychology, evolution of consciousness, meditation, synthesis, harmonization, education of the younger generation, cooperation, culture, ecology, Covid 19, vaccination, practical work of the School of Theosophy and much more.
Indeed, the event sparked interest not only of the regions of the Russian Federation, but also of foreign countries, which will certainly develop further. Admiration, joy, gratitude, were mutually expressed by the participants and presenters of the seminars.
Thank you all very much for your support and assistance in the implementation of the THEOSOPHICAL TOUR OF RUSSIA project!
---
Video and photos