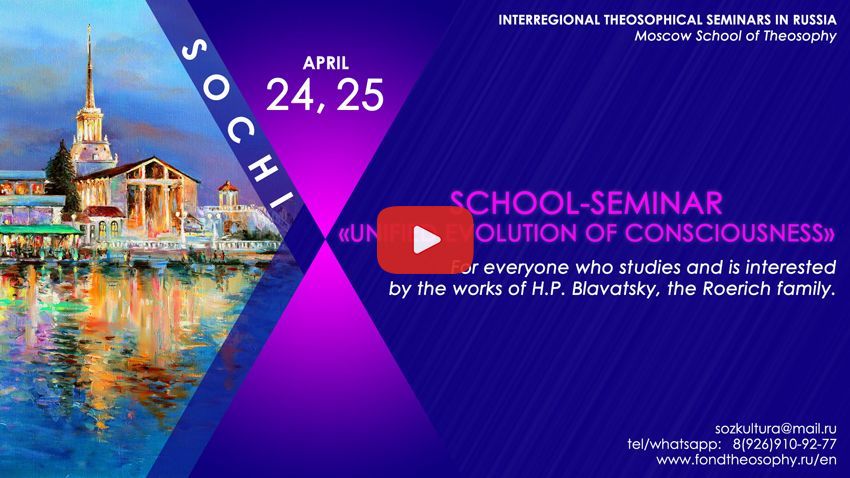 Interregional Theosophical seminars in Russia.
School-seminar "Unified Evolution of Consciousness" in SOCHI
Date: April 24, 25, 2021
Time: From 11 am to 5 pm (Break from 1 pm to 2 pm)
Location: Sochi, Mamayka Microdistrict, st. Volzhskaya, 76, Conference hall.
Speakers:
Vladimir Yary - Head of the Moscow School of Theosophy, President of the Adamant Lodge, psychologist.
Evgenia Shaboornikova - project Coordinator of Fund of assistance to development of socially significant and educational activities "Theosophy".
Preview of the Seminar:
The proposed topics introduce the knowledge of evolutionary development, reveal a more in-depth understanding of the structure of Universe, Cosmos, Nature and human, contribute to the consolidation and clarification of new methodological aspects in the scientific system of human evolution:
"Age Psychology", "Laws of Time", "Discipline of the Mind", "Laws of the Cosmos, Nature, Human", "Evolution of the races of mankind", "Cause and effect. Kalachakra", "Quantum transition. Quality of Time", "About Covid 19", Presentation of the book "Kalachakra-Tantra" (translation and decryption of Tibetan texts, for the first time in Russian) by the V. S. Dylykhova-Parfionovich, famous Tibetologist, student of Geoge Roerich.
The algorithm of the seminar:
Introductory part (introduction to the main doctrine);
Main part (aspects and methods of the system);
Briefing (questions and answers).
Applications for participation in the Seminar This email address is being protected from spambots. You need JavaScript enabled to view it.,
Tel. / Whatsapp 8 (926) 910-92-77
IT'S EASY TO BE TOGETHER!
---
Application for Seminars
{chronoforms5}registr-seminar-en{/chronoforms5}