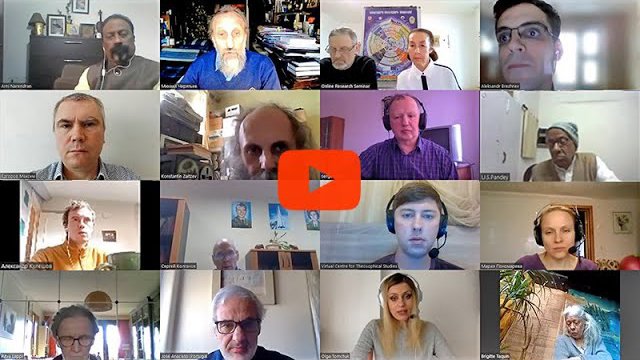 For all those who study and are interested in the Theosophical works of H. P. Blavatsky!
Study of the 2st Stanza, the 2th Sloka of the Secret Doctrine by HPB «...Where was Silence? Where the ears to sense it? No, there was neither Silence nor Sound; naught save Ceaseless Eternal Breath, which knows itself not.», is presented by:
Arni Narendran, Theosophical Society India, Educational Director of the Virtual Centre for Theosophical Studies Adyar (Mumbai, India),
Mikhail Chiriatev, Corresponding Member of the International Academy of Ecology and Life Protection Sciences, Advisor to the Russian Academy of Natural Sciences, member of the Board of Trustees of the International Roerich Memorial Trust in Kullu, India (Saint Petersburg, Russia),
José Manuel Anacleto, President of Lusitanian Center for Cultural Unity (Portugal),
Luke Michael Ironside, Theosophical Society of England , Director of the Virtual Centre for Theosophical Studies Adyar (London, UK),
Final presentation - Evgeniya Shaboornikova, Theosophical Society of Russia, Project Coordinator of the Foundation for the Promotion of Socially Significant and Educational Activities «Theosophy», Moscow.
Comments:
Vladimir Yaryi, Theosophical Society of Russia, «Adamant» Lodge (Moscow),
Ritva Lappi, Theosophical society of Finland, «H.P. Blavatsky's Lodge» (Helsinki),
Brigitte Taquin, Theosophical Society of France, «H.P. Blavatsky's Lodge» (Paris),
Tatiana Kadochkina, Theosophical Society of Russia, «Vozrozhdenie» (Belokurikha, Russia)
Michelina Foster, Theosophical Society of USA (Florida),
U. S. Pandey, International speaker of the Theosophical society, national lecturer of the Indian section, President of the Uttar Pradesh and Uttahkaranda Federation (India),
Konstantin Zaytzev, Theosophical society of Russia, «Anahata» Lodge (Russia, Moscow).
The next seminar is devoted to the study and research of the 2st Stanza, 3th Sloka of the I volume of the "Secret Doctrine" by Helena Petrovna Blavatsky.
We ARE WAITING for you on March 26 at 15:00​ (Moscow time) on zoom platform.
Link to join the seminar: https://www.fondtheosophy.ru/zoom
It's easy to be together!