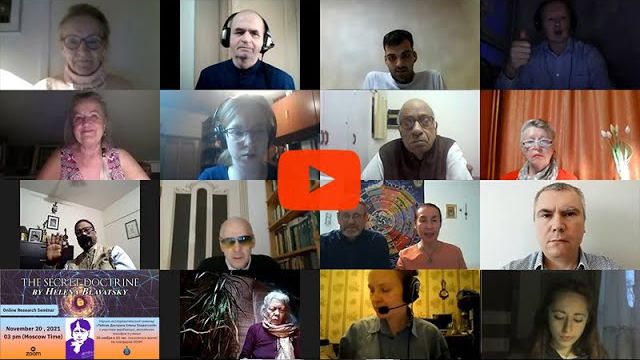 For all those who study and are interested in the Theosophical works of H. P. Blavatsky!
Study of the 1st Stanza, the 9th Sloka of the Secret Doctrine by HPB «But where was Dangma when the Alaya of the Universe was in Paramârtha, and the Great Wheel was Anupadaka?», is presented by:
Arni Narendran - Theosophical society of India, "Blavatsky Lodge" Mumbai (India),
Ritva Lappi, Theosophical Society of Finland, "Blavatsky Lodge" (Helsinki),
U.S. Pandey, International speaker of the Theosophical society, National lecturer of the Indian section, President of the Uttar Pradesh and Uttahkarand Federation (India),
Brigitte Taquin, Theosophical Society of France, 'H.P.Blavatsky Lodge" (France, Paris).
Comments:
Vladimir Yaryi, Evgeniya Shaboornikova — Theosophical Society of Russia, "Adamant" Lodge (Russia, Moscow),
Esther Pockrandt - Theosophical Society of Australia, "Sunshine Coast Lodge" (Australia),
Lyudmila Razuvaeva - Vice-President of the "Blavatsky Lodge", Theosophical Society of Russia (Kemerovo),
Sergey Kolganov - Candidate of philosophy, Department of Moscow Aircraft Institute (Russia, Moscow).
The next seminar is devoted to the study and research of the 2st Stanza, 1th Sloka of the I volume of the "Secret Doctrine" by Helena Petrovna Blavatsky.
We ARE WAITING for you on December 25 at 15:00​ (Moscow time) on zoom platform.
Link to join the seminar: https://www.fondtheosophy.ru/zoom
It's easy to be together!