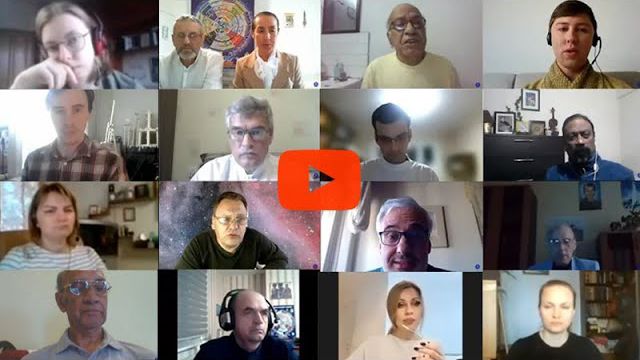 For all those who study and are interested in the Theosophical works of H. P. Blavatsky!
Study of the 1st Stanza, the 7th Sloka of the Secret Doctrine by HPB «THE CAUSES OF EXISTENCE HAD BEEN DONE AWAY WITH; THE VISIBLE THAT WAS, AND THE INVISIBLE THAT IS, RESTED IN ETERNAL NON-BEING, THE ONE BEING», is presented by:
Franzusov Sergey - doctor of historical sciences, Professor of Saint Petersburg state University (Russia, Saint Petersburg)
U. S. Pandey - International speaker of the Theosophical society, National lecturer of the Indian section, President of the Uttar Pradesh and Uttarakhanda Federation (India)
Jose Manuel Anacleto, Theosophical Research Center (Portugal)
Luke Michael Ironside, Director of the Virtual Research Center of Theosophy (Adyar)
Comments:
Vladimir Yaryi, Evgeniya Shaboornikova — Theosophical Society of Russia, "Adamant" Lodge (Russia, Moscow),
Sergey Kolganov - Candidate of philosophy, Department of Moscow Aircraft Institute (Russia, Moscow),
Arni Narendran - Theosophical society of India, Blavatsky Lodge (Mumbai, India),

Sergey Roshchupkin, doctor of physical and mathematical sciences, Professor of the Higher school of engineering and physics, Saint Petersburg Polytechnic University (Saint Petersburg, Russia)
The next seminar is devoted to the study and research of the 1st Stanza, 8th Sloka of the I volume of the "Secret Doctrine" by Helena Petrovna Blavatsky.
We ARE WAITING for you on October 30 at 15:00​ (Moscow time) on zoom platform.
Link to join the seminar: https://www.fondtheosophy.ru/zoom
It's easy to be together!