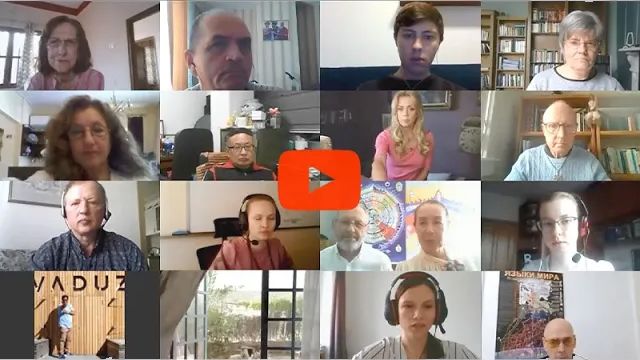 For all those who study and are interested in the Theosophical works of H. P. Blavatsky!
Study of the 1st Stanza, the 5th Sloka of the Secret Doctrine by HPB «DARKNESS ALONE FILLED THE BOUNDLESS ALL, FOR FATHER, MOTHER AND SON WERE ONCE MORE ONE, AND THE SON HAD NOT AWAKENED YET FOR THE NEW WHEEL, AND HIS PILGRIMAGE THEREON», is presented by:
Gary Kidgell - Theosophical Society of Scotland (Scotland, Dundee),
Petra Meyer - The Theosophical Society Great Britain, President of the Blavatsky Lodge (Great Britain, London),
Kishore Ongole - Theosophical Society of India (India, Guntur),
Luke Michael Ironside - Theosophical Society of the Philippines (Morocco)
Comments:
Vladimir Yaryi, Evgeniya Shaboornikova — Theosophical Society of Russia, "Adamant" Lodge (Russia, Moscow),
Ifigenia Kastamoniti - Theosophical Society of Greece, European School of Theosophy (Greece, Athens),
Un-Hak Hwang - Doctor of philosophy, Professor at the School of Art (South Korea),
Anne Kelly - Theosophical society of England (UK),
U. S. Pandey - International speaker of the Theosophical society, national lecturer of the Indian section, President of the Uttar Pradesh and Uttahkaranda Federation (India),
Sergey Kolganov - Candidate of philosophy, Department of Moscow Aircraft Institute (Russia, Moscow),
Konstantin Zaytsev - Theosophical society of Russia, "Anahata" Lodge (Russia, Moscow),
Mikhail Chiriatev - Corresponding Member of the International Academy of Ecology, Man and Nature protection sciences, Adviser of the Russian Academy of Natural Sciences, Member of the Board of trustees of the International Roerich Memorial Trust (Kullu, India), (Russia, Saint-Petersburg)
The next seminar is devoted to the study and research of the 1st Stanza, 6th Sloka of the I volume of the "Secret Doctrine" by Helena Petrovna Blavatsky.
We ARE WAITING for you on May 29 at 15:00​ (Moscow time) on zoom platform.
Link to join the seminar: https://www.fondtheosophy.ru/zoom
It's easy to be together!