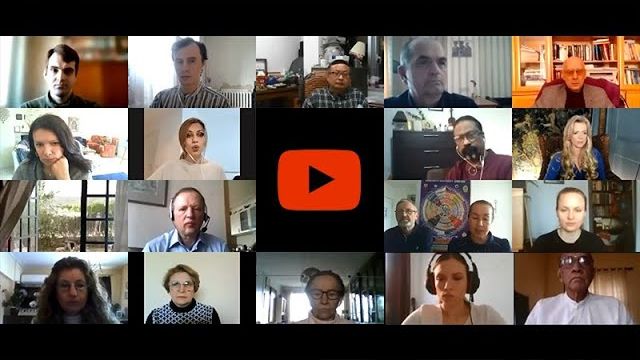 For all those who study and are interested in the Theosophical works of H. P. Blavatsky!
Study of the 1nd Stanza, the 4rd Sloka of the Secret Doctrine by HPB - "THE SEVEN WAYS TO BLISS WERE NOT. THE GREAT CAUSES OF MISERY WERE NOT, FOR THERE WAS NO ONE TO PRODUCE AND GET ENSNARED BY THEM", is presented by:
Sergey Kolganov - Candidate of philosophy, Department of Moscow Aircraft Institute (Russia, Moscow)
Ifigenia Kastamoniti - Theosophical Society of Greece, European School of Theosophy (Greece, Athens)
Ramprakash M. L. - United Lodge of Theosophists of India (Bangalore, India)
Elena Merlits - Theosophical Society of Ukraine
Comments:
Vladimir Yaryi, Evgeniya Shaboornikova — Theosophical Society of Russia, "Adamant" Lodge (Moscow, Russia)
Erika Georgiades - Director of the European School of Theosophy (Greece)
Un-Hak Hwang - Doctor of philosophy, Professor at the School of Art (South Korea)
Ritva Lappi - Theosophical society of Finland, Blavatsky Lodge (Finland, Helsinki)
U. S. Pandey - International speaker of the Theosophical society, national lecturer of the Indian section, President of the Uttar Pradesh and Uttahkaranda Federation (India)
Lyudmila Razuvaeva - Vice president of "Blavatsky's Lodge" (Kemerovo, Russia)
Anne Kelly - Theosophical society of England (UK)
The next seminar is devoted to the study and research of the 1st Stanza, 5th Sloka of the I volume of the "Secret Doctrine" by Helena Petrovna Blavatsky.
We ARE WAITING for you on April 30 at 15:00​ (Moscow time) on zoom platform.
Link to join the seminar: https://www.fondtheosophy.ru/zoom
It's easy to be together!