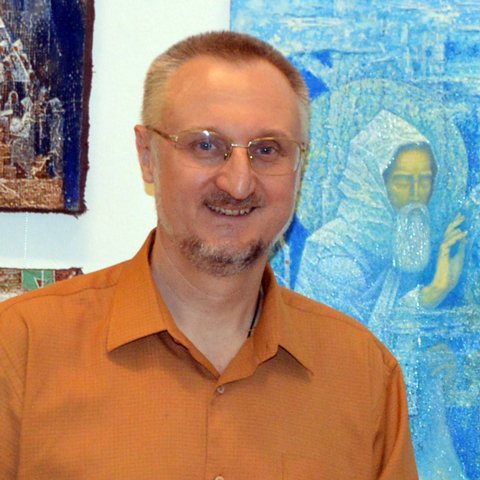 Vitaly Skobeev (Kazan, Russia) was born in 1968 in Kazan, in the family of the classic socialist realism artist Valery Nikolaevich Skobeev. Honored Artist of the Republic of Tatarstan, member of the Union of Artists of Tatarstan, member of the Union of Artists of Russia.
In 1987 he graduated with honors from the Kazan Art College named after N.I. Feshin.
After serving in the army (1990), he continued his studies in his father's workshop. From the many paths that opened up, I chose the landscape.
In 1999, the result of the training was a number of personal exhibitions in the Exhibition Hall of the Union of Artists of Kazan and in the State Council of the Republic of Tatarstan. 2007 graduated from the Art and Graphic Faculty. ChSPU named after I.Ya.Yakovlev.
In 2000, he began working in a new direction in painting for himself. These are works made on the verge of mixing genres: realism, symbolism, Art Nouveau and expressionism.
More than 30 solo exhibitions are united by one theme - the Laws of the universe, the Teachers of humanity and the Great Feminine principle. As well as the search for the meaning of life and awareness of their place in the space of the universe.
The paintings are in many museums of Tatarstan, Nizhny Novgorod, Moscow, as well as in private Russian and foreign collections: Czech Republic, New Zealand, France, Germany, Poland, Israel, Italy, USA.
The credo is in self-knowledge and deep comprehension of the world, in the language of images and metaphors. To bring beauty and joy into the world is the innermost goal of creativity!
---